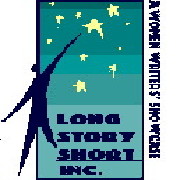 Below read Saki by Heather Stockwell.
The Scream

By Elizabeth Varadan

August is hot and sticky in Manhattan. Three young men in string t-shirts, their biceps shining from sweat, drink Orange Juliuses at one of the stands.

A pretty girl walks by. Picture her if you will: Her wide smile—they all know her, grew up with her—and her confident steps as she bops on down the street in her spaghetti-strap dress.

Those tall buildings lock in the heat.

* * *

In the middle of the hot night, comes a scream.

A woman shouts: "He's got a knife, he's gonna kill me. He's got a knife, he's gonna kill me. He's got a knife, he's gonna kill me...." Three times, in a rhythmic pattern, like part of a singsong rhyme or riddle.

Silence.

Imagine it, if you will: A scream, the pattern of words three times (a magical number) then silence. A silence that slowly seeps into the dawn.

* * *

The day is bright again; hot, humid. The men, biceps showing, drink their Orange Juliuses. Again she walks by, flashing her wide smile.

If anyone awakened the night before, nobody mentions it.

Consider that, if you will.

Bio:  I am a retired teacher and live in Sacramento, CA with my husband and our lovable mutt, Cezar.
Contact Elizabeth.
LONG STORY SHORT

a Women Writers' Showcase

Saki

by

Heather Stockwell

Walking out of a Japanese restaurant, I saw a car. It pulled into the parking lot and a man, ruffled and embarrassed, scrambled out, his shirt askew. He mumbled some words into the car to a driver I could not see and scurried to a waiting car. I imagine some

Saki soaked lust on a Friday night. They met, there was some pretense of conversation, and then the less drunk one drives to an apartment. The two strangers crash their fates together deep into the night. But as so many like tales end, in the morning, they awake and remember that they are strangers.

The other person perhaps brews some coffee drunk in an uncomfortable silence and then offers to drive our hero to the restaurant, where his car has sat alone all night. He agrees, eager to escape the awkwardness of the morning after. For a brief moment in time, they

were one glowing spirit, but in the morning light they are merely themselves again.

On the other hand maybe it was terrible…

Heather is a left-handed Libra with three cats.  She lives with her husband on a windswept hill overlooking the Mystic River in Somerville, MA.  Contact Heather.